McBride High School
Class Of 1968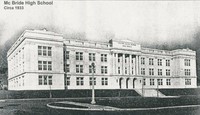 ANNOUNCEMENTS
Welcome to the McBride Micks Class of 1968 website. Be sure to check out all of the links to sites that will take you back to the 60"s. Enjoy!
McBride All-Allumni Site
To stay abreast of all things McBride visit the All Alumni website at www.mcbridealumni.com.
---
45th Class Reunion
The 45th Class Reunion is scheduled for Saturday, September 28, 2013. The reunion will again be at Pietro's on Watson Road in St. Louis, Missouri and will run from 6 to 10 P.M. We will again have an open bar with food as last time. More information will be provided via email.
---