McBride High School
Class Of 1968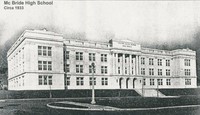 Welcome to the McBride Micks Class of 1968 website. Our class consisted of 156 Micks and currently has 89 signed up on our site. Be sure to check out all of the links to sites that will take you back to the 60"s. Enjoy!
---
McBride All-Allumni Site
To stay abreast of all things McBride visit the All Alumni website at www.mcbridealumni.com.
Save the Date

The McBride Class of 1968 will hold its 50th Reunion on Saturday, September 15, 2018. It will be held at Chaminade High School in the McBride Alumni Hall. It will run from 6:00 P.M. to 10:00 P.M. Food will be provided from Bogarts, known for their fine BBQ. We will also have an open bar for everyone. Price for the event will be $43 per person. More information will be provided within the next few weeks.. Hope to see you there.
---
UPCOMING BIRTHDAYS