McBride High School
Class Of 1968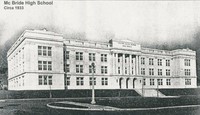 Welcome to the McBride Micks Class of 1968 website. Our class consisted of 156 Micks and currently has 90 signed up on our site. Be sure to check out all of the links to sites that will take you back to the 60"s. Enjoy!
---
McBride All-Allumni Site
To stay abreast of all things McBride visit the All Alumni website at www.mcbridealumni.com.
Class of 1968 50th Reunion Celebration

The McBride Class of 1968 will hold its 50th Reunion on Saturday, September 15, 2018.
DATE Saturday, September 15, 2018
TIME: 6:00 p.m. – 10:00 p.m.
PLACE: Chaminade High School
McBride Alumni Hall
425 S Lindbergh Blvd
St. Louis, MO 63131
COST: $43.00 Per Person (includes 4 hour open bar and BBQ from Bogarts).

Email announcements have been sent to everyone with an email address (letters to those without registered email addresses). If you need more information please email me through the website.

We hope you can join us for this milestone event.
---
McBride 2018 Alumni Golf Outing - Monday, September 18, 2018
The tournament is set for Monday September 10, 2018. We plan to do a shotgun start at 1 pm. The format is four man scramble. We will serve dinner after play is complete. Classes from 49-57, 58-67, and 68-72 will compete for prizes. Cost to play (including dinner) is $65 dollars. Dinner only is 20 dollars. Reservations due August 31, 2018. See you there!

Information has been emailed to everyone. If you need more information please contact Larry Porschen.
UPCOMING BIRTHDAYS