McBride High School
Class Of 1968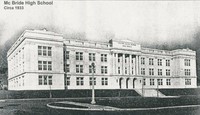 Welcome to the McBride Micks Class of 1968 website. Our class consisted of 156 Micks and currently has 91 signed up on our site. Be sure to check out all of the links to sites that will take you back to the 60"s. Enjoy!
---
McBride All-Allumni Site
To stay abreast of all things McBride visit the All Alumni website at www.mcbridealumni.com.
July 2 to 1 Matching Opportunity Achieved
We are pleased to announce that more than 200 Micks took advantage of Joe Nettemeyer's 2 to 1 matching opportunity for the month of July and contributed $50,188 to the McBride Legacy Scholarships enabling us to secure the $100,000 matching gift.
Again, we extend our gratitude to Joe for his generous double match opportunity to continue to spark alumni interest in carrying forward a Marianist education for today's Chaminade students who are McBride legacies.
Since announcing our Phase II fundraising efforts for the McBride Legacy Scholarships at the Throwback Night in January, we have secure $300,000 towards our $500,000 goal. Of the 320 Micks who have made a gift, 106 Micks contributed to both our Phase I and Phase II efforts, and 214 Micks have joined the efforts in Phase II.
Participation has been strong across all the classes, but the top three classes in Phase II are 1970 with 33 donors, 1967 with 30 donors and the class of 1968 with 25 donors.
If you haven't made a gift yet and want to do so, you can still take advantage of the 1 to 1 matching challenge. Gifts can be made online via credit card at https://www.chaminade-stl.org/alumni/mcbride-alumni/mcbridescholarship or mail your gift to Chaminade College Preparatory School, Attn: McBride Legacy Scholarships, 425 S. Lindbergh Blvd, Saint Louis, MO 63131-2729.
McBride Legacy Scholarship Committee
Mike Andert '70, Ed Bovier '63, Tony DeNatale '63, Mike Hagenhoff '63, Mike Hahn '64, Russ Isaak '60, Ron Johnson '63, John Marino '70, Mike Milne '63, Joe Nettemeyer '69, Jerry Noce '70, Larry Porschen '67 and Jeff Stephans '64
UPCOMING BIRTHDAYS