McBride High School
Class Of 1968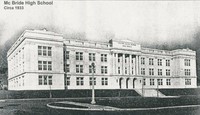 Welcome to the McBride Micks Class of 1968 website. Our class consisted of 156 Micks and currently has 91 signed up on our site. Be sure to check out all of the links to sites that will take you back to the 60"s. Enjoy!
---
McBride All-Allumni Site
To stay abreast of all things McBride visit the All Alumni website at www.mcbridealumni.com.
McBride Annual Throw-Back Game
Save the date, Friday, January 11, 2019 for the 12th Annual Throw-Back game at Chaminade. Once again Chaminade will dress as the McBride Micks for their game against Trinity. More information to follow. Hope you can make it to the game.
UPCOMING BIRTHDAYS